Snail Mail.
In today's digital era, it's amazing we get hard copies of anything anymore.
Every day loads and loads of bills, coupons, and junk mail are pretty much all the mailbox has to offer anymore.
But SOMETIMES you open that mailbox and get a spark of excitement as you shuffle through the meaningless papers to find a plush, heavy envelope thoughtfully addressed to you personally. You tear open the envelope and find a beautifully designed invitation into the love story of your closest people.
The texture, the colors, and even the weight are an experience in themselves, like a teaser trailer to an Oscar-worthy film. Or better yet, consider it your "wedding save the date," a physical announcement that paves the way for everything that follows.
Fast forward a few months, and you're watching a cinematic wedding video that captures not just the big moments but also those precious, often-overlooked seconds that encapsulate the essence of the day.
Isn't it fascinating that your wedding's first and last impression can be so impactful, so complete, so incredibly you? Your wedding invitation and your wedding video are like two bookends that hold together the beautiful chapters of your love story. One introduces your tale, and the other summarizes it in a way that will be revisited for years to come.
Here's where the magic of Basic Invite comes in—making sure your story starts as beautifully as it will end.
The First Chapter: Your Invitation
Paint Your Love
You have a UNIQUE style for your wedding, and that can't always be covered with generic, one-size-fits all wedding designs. Thanks to "online wedding invitations" like those offered by Basic Invite, each element on the card is customizable with over 180 color options. Think of it as setting the color scheme for the visual narrative that will continue through your wedding and into your video.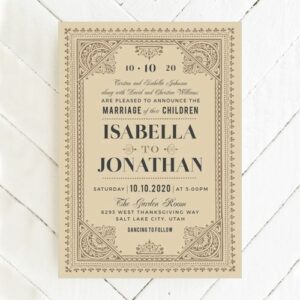 The Real Deal
You wouldn't buy a car without a test drive, so why would you buy an invitation without a test print? With Basic Invite, you get to experience opening your invite just as your guests would. You can get a printed sample of your actual invitation—letting you feel the quality and see the design up close.
More Than Just A Wrapper
Let's not forget the envelope, shall we? The envelope is the first gift you can give your guests! It's design is the first thing they will see shuffling through all the flimsy fliers that clutter the mail.  Basic Invite offers 40 different envelope colors to add an extra splash of personality and set the tone for what's inside.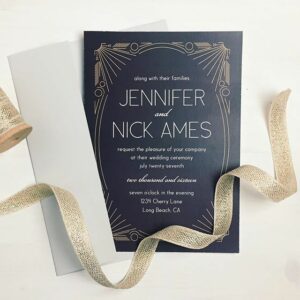 Socially Savvy
No more TEXTING every single person to collect their addresses. Basic Invite's address capturing service modernizes an often-tedious task. Share a link on your social platforms to gather addresses and keep all the information neatly organized.
Shimmer and Shine
You guys – is it just me or do you LOVE the depth of some foil on your invites? It just really adds that special touch that Canva just can't give you. For those who adore the finer things in life, Basic Invite offers foil cards in gold, silver, and rose gold.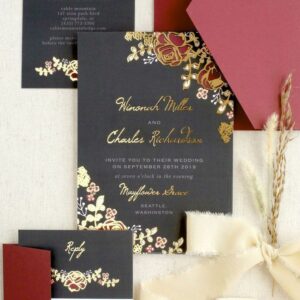 Your Digital Footprint
And yes, you can keep the narrative going digitally with a free wedding website that matches your invitation style to keep your vibe cohesive throughout your entire guest experience.
The Final Chapter: Your Wedding Video
Just as your customized invitation provides the first impression, your wedding video serves as the grand finale. We capture every laugh, every tear, and every dance move to craft a cinematic experience that you'll cherish forever. With a video, you get to relive the fairytale anytime you wish.
A Special Offer to Start Your Story
To make your first chapter as magical as the rest, Basic Invite is currently offering a 15% discount with the code: 15FF51.
---
Your invitation is the opening scene, and your wedding video is the closing credits. And just like any timeless love story, every detail in between matters. When you're ready to capture it all on film, we'll be here, director's chair and all.